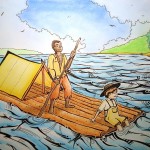 There will be a brand new Bookstore Cafe opening up in Truro, NS that will feature It's for Sam artwork pieces. First off, the owner has commissioned three pieces inspired by novelty books such as "Alice in wonderland", "Moby Dick" and "Huck Fynn".
These three pieces will also be done up in prints on various items for sale in the store. This is opening up the market for Nova Scotia. Also, the owner would like to have some of the collaboration pieces between my son and myself for the kids section.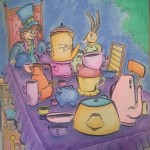 This is a true blessing.