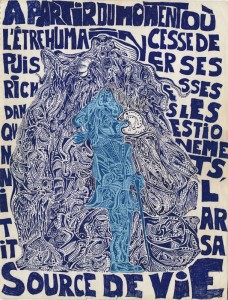 Every week I am taking the time to discuss one of the art pieces that I, or me and my son, have created. I go through the thought process, the influences, the technique, etc. I am hoping that this post will help you better understand the origin of my art and admire all of its intricacies.
This week I will be talking to you about the piece that started it all. I call it: "Genesis", it is 11″ x 14″ in size, done entirely with an ink pen. Took me over 3 weeks to complete since it was the first one AND because of all the details.
When I first came back from British-Colombia, I was going o pursue a college degree in visual arts. I spent most of my nights in a local billiard/bar called "Le Patriote", in there I used to bring my drawing pad and a pen and start doodling on this big 11″x 14″ page. As I was doodling I started to see a face of a renaissance french man and I developed the idea. I finally came up with a full figure of a renaissance french man with a cane. (as seen in Fig. 1)
That man was quite alone on that page, I wanted to keep drawing doodles, so the concept of creating a background for this guy was out the door. Then I started doing little forms by his face, his suit and his hands. When I stepped back and looked at these forms, I saw a head of a duck on one of them, somewhat of a platypus on the other. (duck can be seen in Fig. 2).
Having those shapes on one side of the man felt unbalanced so I started drawing on the other side. One of them started to look like an elephant head. So I went on with that idea (Fig. 3) and I continued with the creation of animal heads around the man, a unicorn head, a piranha, a pig (Fig.4). As I was drawing, more and more heads were showing themselves to me.
I kept on developing the idea, I was getting excited about the fact that animals were hidden in the drawing itself. I kept on drawing more heads all around the subject. (see Fig. 5, 6 and 7) The drawing was becoming bigger and bigger and the amount of details and scribbles were getting impressive. I remember thinking to myself that this drawing will soon become a "Where's Waldo" piece trying to figure out how many animal heads are in there.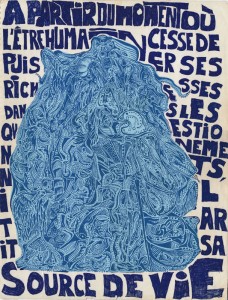 After drawing for a while, I stopped and looked back at it and I noticed something amazing, the whole drawing created a silhouette of a mans head. The man had long bushy hair, a mustache, a beard and his mouth is open as if to speak life. (Fig. 8) I was so excited and I started wondering what would that silhouette say? I had a friend back then who was really into reading and creating stories. He suggested the line:" À partir du moment où l'être humain cesse de puiser ses richesses dans les questionnements, il tarit sa source de vie" Which means: "From the moment the human being ceases to tap its wealth in the questioning , it dries up it's source of life". At the time I thought that was genius and I decided to use that phrase as a background to the drawing as if the silhouette was speaking those words.
In this drawing, I have over 18 animal heads drawn. I invite you to find them all. I truly hope that this piece was as fun for you to discover than it was for me to create. Don't hesitate to grab a pen and start drawing. I would love to see what you come up with.
In the meantime, keep creating.