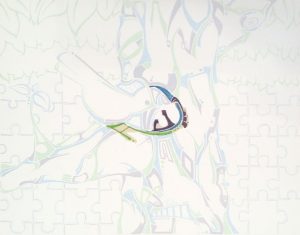 Every week I am taking the time to discuss one of the art pieces that I, or me and my son, have created. I go through the thought process, the influences, the technique, etc. I am hoping that this post will help you better understand the origin of my art and admire all of its intricacies.
This week's piece is a drawing that was completed back in 2013. It is called "Coming Home". It is 11 x 17 inches in size, it was done with ink and soft pastels. It is for sale at 280$.
For a long time, I didn't like this piece. I remember when I was working on it, I was unmotivated to finish it. So let's start looking at it and you will see where exactly I started not liking it and how I fell back in love with it because I now understand the message it is trying to convey.
As usual, I started with a couple of curves and lines right in the middle of the page to give me a starting point. (Fig.1) At first glance, it was still too early to figure out what the piece was meant to be. So I kept on drawing lines, curves and shapes surrounding the starting point hoping to get an image show up in front of me. (Fig. 2) Still, I couldn't see the subject of the piece, so to provoke it, I decided to draw bigger shapes that took on more space, that way, maybe the marriage of the white space and the lines would help me see something. (Fig. 3&4)
Well, it worked. (To give you a better view of what I was seeing, see Fig. 5) To the untrained eyes, it is just a couple of lines, that looked like nothing, but I saw the little bird. That little bird was so shy, he wanted me to find him, but on his own terms. So I gave the bird more definition to better represent the state that he is in, which is outside, looking in to his house. (Fig. 6) The tree was taking form, so did the branch, so I defined them, using the white space to help me build volume on the tree. (Fig. 7)
Although, looking at the tree, I thought to myself that there was not enough life coming out of it, so I decided to represent life with a small growth next to the bird.(Fig. 8) Since we are in a tree, I decided to create a little bit of leaves to go on that tree. I created three levels so that we can get a feel of the grandeur of the tree. (Fig. 9 & 10)
Now we have reached the point where I started to stall. I did not know what to do in the background. I didn't want to put more details as we might have lost the bird and the tree on the foreground. Didn't want to do a simple; "leaves and sky" because it is too generic. This is the moment where I started to hate this piece. For a long period of time, I left it unfinished. I completed three other pieces before I finished this one. I just could not come up with an idea to finish the background.
One day, my wife came up to me and she said; "Why don't you finish that little bird drawing? It's so cute." I told her that i didn't know what to do in the background. She suggested since it is for autism, why not put puzzle pieces that would complete the sky. So I went on with this idea. (Fig. 11)
I still wasn't too sure about the piece as it wasn't speaking to me at all. I went on an colored the piece, making sure that the little bird is noticeable by coloring him red and defining his little home with a little bit of black.(Fig. 12)
When I was done with the coloring, I still wasn't entirely satisfied with it, but my wife loved it. After a while,  looked at the piece again and, FINALLY, the piece spoke to me. I finally saw the meaning behind it.
The bird represented our son, diagnosed with autism. It shows him trying to fly but his wings aren't there yet and he doesn't know how to ask for help from the other birds in the house. So he stands there looking around, not quite understanding what he needs to do to make himself understood. He is experiencing life his own way.
When I saw that, truth be told, I started to cry. Never in my life has something I drew moved me like this simple, yet amazing, piece.
I hope you enjoyed this little story on this piece entitled "Coming Home", on sale for 280$. I sure enjoyed sharing the story of it with you.
Until next time, keep creating!