After showcasing this piece on hoodies, t-shirts and now greeting cards, I thought that it would be nice of me to explain the piece a little bit and why it represents the acadian culture so well.
First and foremost, if we look at the piece, we notice a face of an old woman in the center, which to me represents one of the most iconic character in the acadian culture, la sagouine. Now just over her face, we see that little acadian house which has a door open, it represents how welcoming the acadians are in the maritimes. On the left side of that house there are fields that are growing crops and in the background some lighthouse with a reef which represents more on the peninsula area of the acadian culture. Upon that field you can notice a cowboy hat and a lobster which also represent how the country music and fishing are important for the region.
Underneath that field, you see a fisherman boat and an open book just above it. Those two also represent the culture and just how the people here love to share stories.
On the right side of the house, we see that big lighthouse that shines over the musical instruments and art. This represents just how the culture and arts are shining through. Those instruments are represented in such a way that they look like they are lively, they love life, which is also a sentiment shared by the acadians.
And of course, I had to crown it with the acadian flag, flowing in the wind.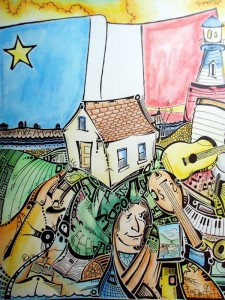 The original piece has been given to a private party. I trust these people are enjoying the piece and have it proudly displayed somewhere in there house. The piece is very colourful just like the acadian culture.