Every week I am taking the time to discuss one of the art pieces that I, or me and my son, have created. I go through the thought process, the influences, the technique, etc. I am hoping that this post will help you better understand the origin of my art and admire all of its intricacies.
This week, I am talking about a piece that was created back in 2011. The piece is called :"Pig faced" it is ink over paper, 13 inches x 19 inches in size and using only two colors; forest green and hay green. (the colors on this post are lighter than the actual piece)
When I started the project, I had no preconceived idea as to what I was going to represent. But I do know that I wanted to use two colors that were very close to each other. I am very attracted to earth tones; greens, blue, browns and yellows, so for this project, I wanted to explore the different tones of green. I use colored ink pens as I love the control that you have over the line with the pen opposite to the free form that you can create with a brush.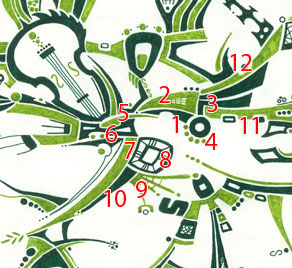 Once I settled on the colors, I immediately started at the center of the page. I normally start with a small curved shape, just a simple curve and sometimes I add a little hook element in it, just like I did in this project. (see Fig.1) When that little curve was done, I figured why not add a circle shape next to it to complete the look of it. From there I switched to the lighter green color to create another element right next to it. I always add another element close or next to the element I just drew, always by alternating the colored pen that I am using to make sure that the colors balance out and not make a visual overtaking of one color on the art piece. (as illustrated in Fig.2)
This process takes a while in the making as I take numerous brakes to take a step back and see what the work is trying to tell me what it wants to become. In some cases, I really have to ask the help of my wife or my son as I can sometimes be too invested in the project and cannot see what the piece is.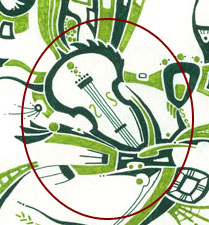 In this case, I kept drawing and drawing, alternating between colors, It wasn't too long before I saw the opportunity to create a cello. I figured adding music to the theme would be nice. (Fig.3)
I kept drawing and putting more elements in the piece until I finally saw him. He was hiding in the bottom left corner, all that I had to do is add a mouth and cheek bones. The pig profile took over as I completed it in the piece itself. You can see a cartoon style face of a pig at the bottom left of the piece. Once he has revealed himself to me all I had to do is give him character and life. (see Fig.4)
Once I completed the mouth and cheek details (see Fig.5), the piece really came together as a face of a pig that was splattered unto something or someones face.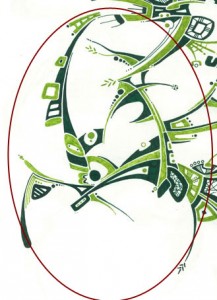 Having it at the bottom left corner of the piece really gives it a dynamic look and the splatter behind the face gives it all the more signification. Some see it as a splattered pig face, some see it as a carnival mask from Rio de Janeiro.
All in all, this piece took me many hours to produce. There is a lot of filling in the color for the shapes, breaks and looking to see if the piece speaks to me.
All the pieces that I create are in the same spirit of production, no preconceived ideas, I just let the piece speak for itself and reveal itself to me.
I truly hope that this article brought a new light to the creation process of this piece and looking forward to next week where I will be presenting another piece. In the meantime, keep creating!