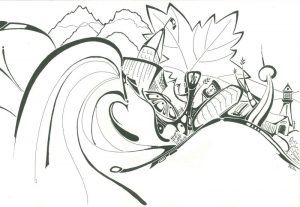 Every week I am taking the time to discuss one of the art pieces that I, or me and my son, have created. I go through the thought process, the influences, the technique, etc. I am hoping that this post will help you better understand the origin of my art and admire all of its intricacies.
Seeing and following the events that are going on in Fort McMurray today, I decided to talk about The piece that I called "I dream of Canada". This piece is originally 11×17 inches and has been sold within hours after it's completion. The original version is black and white (fig.1), the colors were added digitally on a copy later on.
When I first started this piece, I decided to start with a simple line that soon formed into a shape, when I first looked at it; I thought to myself that it looked a lot like the tower of the Olympic stadium in Montreal. (fig.2) So, just for the fun of it, I added the big "o" under it to make it look like the stadium.(fig.3) Then, I drew a curb under it, I wanted to create some kind of river, because my first thought was to create a city line of Montreal, that would've been nice to see. (fig.4)
After I drew the curve, I took a step back and then I saw her, a woman lying down in her bed with her head resting on the pillow. So I went in that direction with the creation process and worry about the rest later on. So I gave her long curvy hair, that almost looks like a waterfall.(fig.5) I wanted her to be more obvious to the spectator, so I drew the shoulder under the white blanket (snow maybe?)(Fig.6) So now the woman was obvious to see, but what do I do with the Olympic stadium right in front of her? Then I came up with an idea. What if she was dreaming? What if she saw our beautiful country in just one shot with some of its landmarks. So I started drawing landmarks next to the Olympic Stadium. I started with Parliament Hill, or at least a building to which you can identify our nations capital with.(Fig.7)
Then I wanted to add a little bit of weight on the other side of the stadium tower, so I went on and drew the Rexall building in Edmonton, where the Oilers used to play hockey. (fig.8) And then I added a glimpse at Vancouver with the Canada Place details of the architectural roofs. (fig.9) I wanted to include the prairies in this drawing as well so next to the Rexall building, I drew a couple of parallel lines. I wasn't satisfied with just those lines as there were minuscule So I added two more wheat grain to make the prairies presence more obvious. (fig.10)
I also added more landmarks, the CN Tower (fig.11), Hartland's covered Bridge in New Brunswick and Peggy's Cove in Nova Scotia (fig. 12) on the right of the prairies. Now when I looked at the piece It felt unbalanced. I created an image to give you a taste of what I was seeing at the time (fig.13)
I felt a visual unbalance pulling me to the right, so I went over the woman's head and drew the rocky mountains.(fig. 14) It looked alright but there was still a missing element and that is that on the top right there was this huge white space and since I didn't include any elements of our three territories, I created a maple leaf right there to balance the whole thing out. (fig.15)
When I showed this piece on my facebook page, I automatically received a message from someone asking me how much for the piece, within minutes it was sold. Later on, I was having fun adding color to it with using photoshop.(fig.16) I liked it, but now there was an unbalance, the eye was going straight to the maple leaf, without hesitation, losing all of the elements at first site. So I added the word "Canada" under the drawing.(as seen in feature image of this article) I liked it so much, that I created t-shirts and started selling those for Canada Day celebrations.
The t-shirts are still available today, contact me for details, it is quite different from any other Canada day celebration shirts, but it still works. This piece pays tribute to a beautiful country and all of it's beautiful regions. There are a lot of canadians leaving the country on vacation instead of seeing this vast country. I had the privilege to see Canada, on ground, in the air, everywhere. There are a lot of beautiful gems in this country. I invite you to discover our country instead of leaving for the Bahamas in the summer.
That being said, to the people of Fort McMurray, my thoughts and prayers are with you guys. Stay strong, stay safe!